MECER INTER-ED: GUIDING YOU THROUGH YOUR ENTERPRISE SKILLS INITIATIVE BENEFIT
What is ESI?
The ESI (Enterprise Skills Initiative) program will provide companies with technical skills development, through a digitally enhanced training and certification experience. Microsoft is offering selected customers funded Azure courses through MIE as your Microsoft Learning Partner to drive cloud training and certification which will allow you the following benefits:
Building skills to drive digital transformation
Focusing on a digital-first training experience
Ensuring technical training & certification is convenient, affordable, and effective
WHICH COURSES CAN I ATTEND?
WHAT IS THE PROCESS?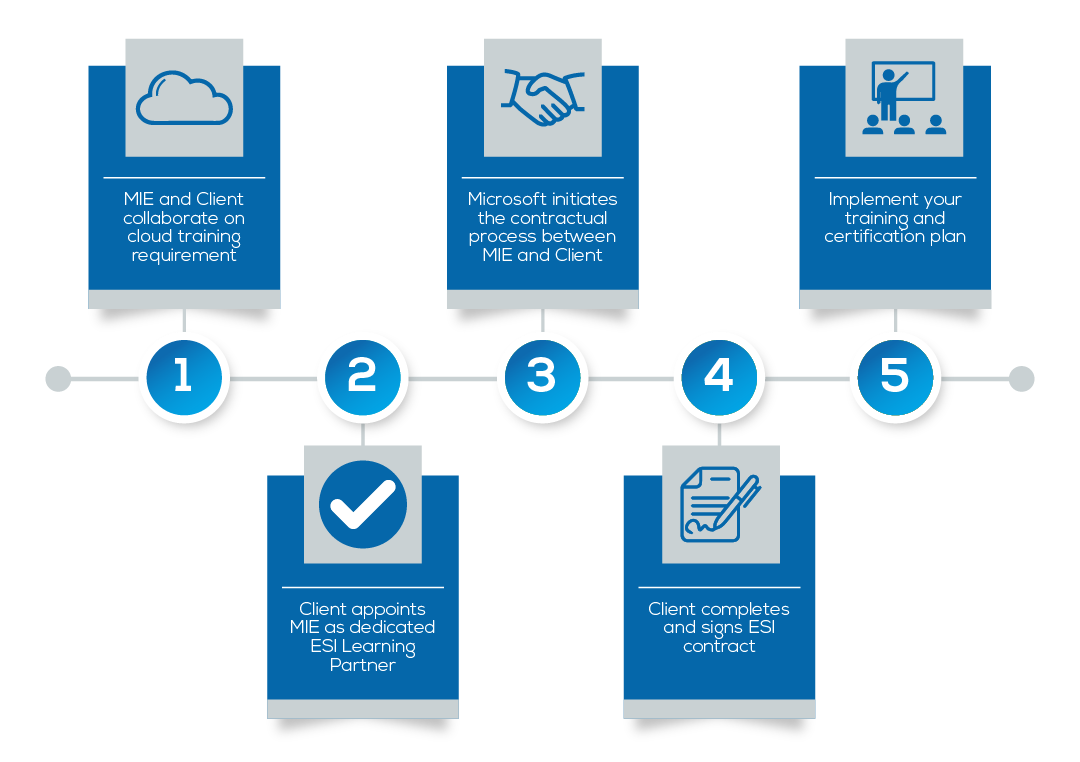 A CONVENIENT TRAINING APPROACH
MIE caters for all organisations whether you send 2 or 20 individuals, based on our 6-month rolling schedule catering for all ESI related courses. You can choose from any of the following convenient training methodologies. Your students have the option to:
Virtual Instructor-led Training
Attend either virtually (VILT) through our Virtual Learning Platform
BOOK NOW
ONSITE TRAINING
MIE can bring the training centre to you, through an onsite training option.
BOOK NOW
MECER INTER-ED, YOUR MICROSOFT LEARNING PARTNER
MIE has the ability to scale, adapt, implement and train new technologies to support and accelerate cloud adoption within your organisation. We offer the complete suite of authorized Microsoft training and certification curriculum with over 100+ courses, As leading experts in our field, we offer a variety of courses the latest technology topics, such as Cloud, IoT, Security, Architecture and DevOps.
Get in touch with us
Morne Hugo | morneh@mecerintered.co.za | (+27) 10 730 0873 or (+27) 82 855 6085
BOOK NOW